Following the Bitcoin halving event, which took place earlier in May, BTC's volatility made a dive. It hit an all-time low in June; the calmest cryptocurrency markets have been in a long while. Over the next two months, BTC would show greater price fluctuations, making it hard to determine where Bitcoin will go in September 2020. In this article, we'll be taking a look at the prices of BTC in the recent and current market projections to arrive at the most accurate Bitcoin price prediction for September 2020.
Bitcoin Overview
Without delving into Bitcoin 101, this cryptocurrency is the first-ever digital coin created and the first to successfully record blockchain-based transactions. Bitcoin has a market capitalization of $217,318,048,461, and it is trading at $11,766.20.
You want the latest news about Crypto?

Then follow us on Google News!
$20,927,461,177 worth of BTC has been traded in the last 24 hours. With such a large number of transactions performed on the network on a daily basis, BTC has been slowing its processing speed. As a remedy, additional protocols have been added to enhance the speed, scalability, and privacy of BTC transactions, notably, the Omni Layer, Liquid Network, and Lightning Network. Only 21,000,000 Bitcoins will ever be created, and the current number in circulation is 18,469,687 BTC.
Bitcoin Price Prediction: Analysis
From July to August, Bitcoin has risen considerably. Starting at $9,340.80 on July 22, it rose rapidly to $11,166.26 over the next six days. It then experienced a series of fluctuations, dipping below the $11,000 support a few times and back up. On August 2nd, there was a sharp price drop from $11,949.14 to $10,992 within just two hours. For the rest of the month, the coin traded mostly between $11,000 and $12,000, reaching a peak of $12,399.61 on August 17th. It would fall slightly over the next couple of days.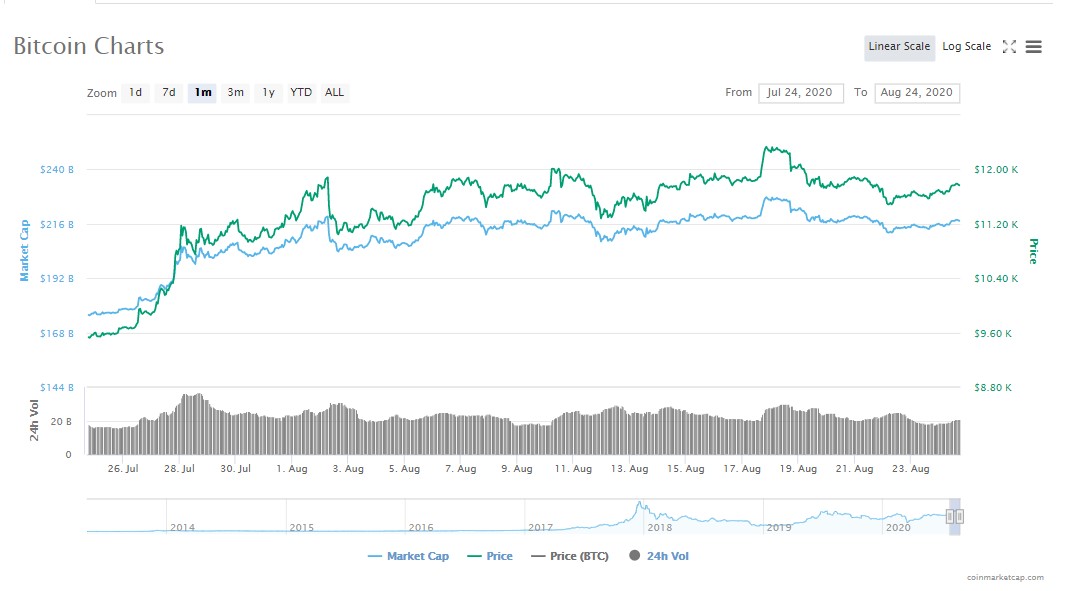 Compared to the months immediately after the halving event, BTC has once again seen a spike in volatility. However, the trend seems to be neither bearish nor bullish at the moment.
According to WalletInvestors, the current pivot, resistance, and support levels calculated for BTC are:
Resistance Level (R3): 12134.00;
Resistance Level (R2): 12016.10;
Resistance Level (R1): 11800.80;
Pivot Point: 11682.90;
Support Level (S1): 11467.60;
Support Level (S2): 11349.70;
Support Level (S3): 11134.40.
Developments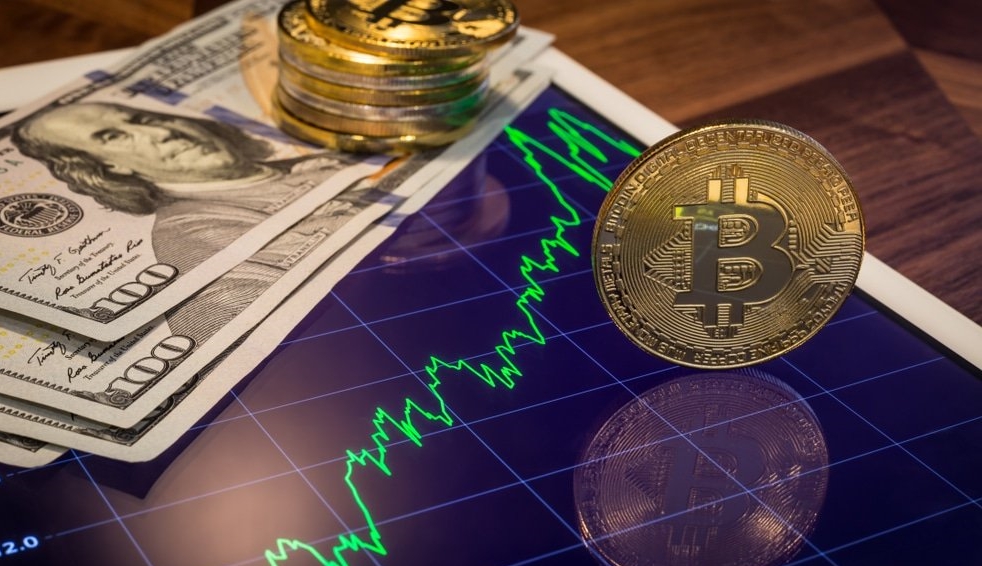 personal-financial.com
Double spending attacks that had been plaguing Bitcoin were recently declared not to be a medium by which attackers steal Bitcoin, but a way to confuse coin holders that unconfirmed payments have been received. According to Ledger, "It is not a vulnerability in the network, but more of a design flaw."
Double spending attacks were first uncovered by ZenGo, a Tel-Aviv based crypto start-up company. ZenGo identified these attacks in three major hardware wallets – Ledger, BRD, and Edge, and it was eventually coined "BigSpender" because it gives a misleading wallet balance. However, following this discovery, BRD soon released a fix, while Ledger and Edge currently have feasible solutions in the works. ZenGo also launched an open-source instrument that tests crypto wallets for the effects of BigSpender.
Bitcoin Price Prediction: Market Opinion for September 2020
In order to arrive at the most accurate verdict concerning the future performance of Bitcoin in the cryptocurrency market, we will be considering opinions of experts from some of the notable forecasting sites.
Longforecast
According to Longforecast, BTC will begin September at $11,466 and close at $11,262 for a percentage change of 0.1%. The site projects the minimum price for the month to be $10,474, with a maximum of $13,332.
Digitalcoinprice
Digitalcoinprice projects longer BTC price predictions in the month of September. The site forecasts that Bitcoin will be priced at an average of $27,551.04, with an increase of 136.85%.
Tradingbeasts
Bitcoin is expected to begin at a price of $10,247.256 when September starts. This is an increase of 0.25%. However, during the month, Tradingbeasts puts price fluctuations from as low as $8,731.76 to $12,840.803.
Gov. Capital
Gov.capital's Bitcoin price prediction opens at $12,156.17 on September 1st, 2020, and closes at $11,551.86. Here is the complete table of daily predictions with the least and best possible prices.
Calendar date
Regular
Least possible price
Best possible price
2020 September
2020 September 01, Tuesday
 11925.41
 10136.5985
 13714.2215
2020 September 02, Wednesday
 12052.79
 10244.8715
 13860.7085
2020 September 03, Thursday
 12199.01
 10369.1585
 14028.8615
2020 September 04, Friday
 12179.22
 10352.337
 14006.103
2020 September 05, Saturday
 12125.02
 10306.267
 13943.773
2020 September 06, Sunday
 11974.91
 10178.6735
 13771.1465
2020 September 07, Monday
 11968.29
 10173.0465
 13763.5335
2020 September 08, Tuesday
 11931.58
 10141.843
 13721.317
2020 September 09, Wednesday
 11780.10
 10013.085
 13547.115
2020 September 10, Thursday
 11707.30
 9951.205
 13463.395
2020 September 11, Friday
 11678.23
 9926.4955
 13429.9645
2020 September 12, Saturday
 11795.20
 10025.92
 13564.48
2020 September 13, Sunday
 11735.27
 9974.9795
 13495.5605
2020 September 14, Monday
 11683.59
 9931.0515
 13436.1285
2020 September 15, Tuesday
 11616.83
 9874.3055
 13359.3545
2020 September 16, Wednesday
 11696.31
 9941.8635
 13450.7565
2020 September 17, Thursday
 11616.80
 9874.28
 13359.32
2020 September 18, Friday
 11678.51
 9926.7335
 13430.2865
2020 September 19, Saturday
 11709.11
 9952.7435
 13465.4765
2020 September 20, Sunday
 11739.58
 9978.643
 13500.517
2020 September 21, Monday
 11767.43
 10002.3155
 13532.5445
2020 September 22, Tuesday
 11718.49
 9960.7165
 13476.2635
2020 September 23, Wednesday
 11728.97
 9969.6245
 13488.3155
2020 September 24, Thursday
 11541.70
 9810.445
 13272.955
2020 September 25, Friday
 11180.32
 9503.272
 12857.368
2020 September 26, Saturday
 11223.95
 9540.3575
 12907.5425
2020 September 27, Sunday
 11162.08
 9487.768
 12836.392
2020 September 28, Monday
 11333.22
 9633.237
 13033.203
2020 September 29, Tuesday
 11267.00
 9576.95
 12957.05
2020 September 30, Wednesday
 11324.99
 9626.2415
 13023.7385
Bitcoin Price Prediction: Verdict
Based on the data analyzed in this article, we foresee that Bitcoin will experience even steeper and more rabid fluctuations in September 2020, but it may be headed in a more bullish direction than a bearish one.
Featured image: techgenyz.com

coindoo.com is author of this content, TheBitcoinNews.com is is not responsible for the content of external sites.
source: https://coindoo.com/bitcoin-price-prediction-september/
TheBitcoinNews.com is here for you 24/7 to keep you informed on everything crypto. Like what we do? Tip us some BAT
Send Tip now!