Bitcoin (Pending:COIN) (OTCQX:GBTC) was in a bubble in late 2013. And again in 2017. Actually this year, there have been bubbles within bubbles, with the March to June parabolic rally followed by another +100% rise from July to August.
Where does it end?
Well, I read today it was going to the moon, which is interesting as I am coming to the exact opposite conclusion.
I think Bitcoin has either topped or will top on the next high in the $4,400s.
Here's why.
Targets Met
There's been no shortage of top callers this year and they have added fuel to the fire. However, I imagine most have given up after the move above $4,000.
Worse still, from what I see, a few are trying to buy this 10% dip for another high. When bears get greedy and try to speculate on one more high, it is a massive red flag for the rally.
I would like to point I have not been a bear or tried to call a top. Far from it; my June article, Bitcoin – We've Seen This Bubble Before (And It's Bullish), contained a target of >$4,000 and this chart: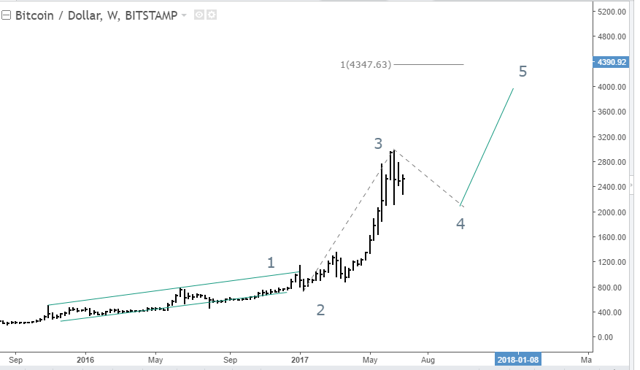 The exact target was $4,347, but the main takeaway was to expect a blow-off move higher, which I think we can all agree we just had. $4,480 was the all-time high made last week, and the weekly candle from this point shows indecision and a lack of demand.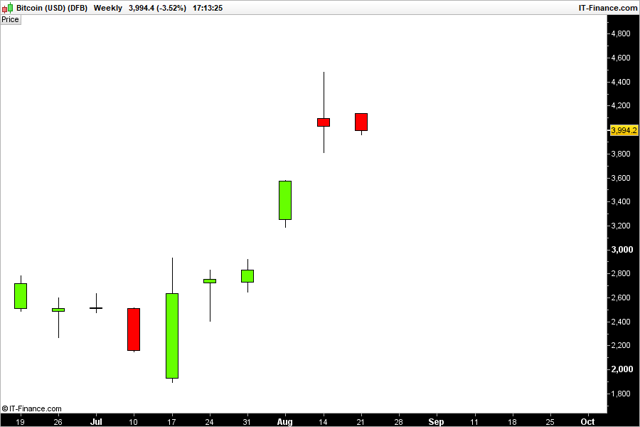 One of the reasons for the call higher was the observation Bitcoin has been in a bubble before – in 2012 to 2014 – and the 2017 rally was taking a comparable trajectory. Here is an updated chart: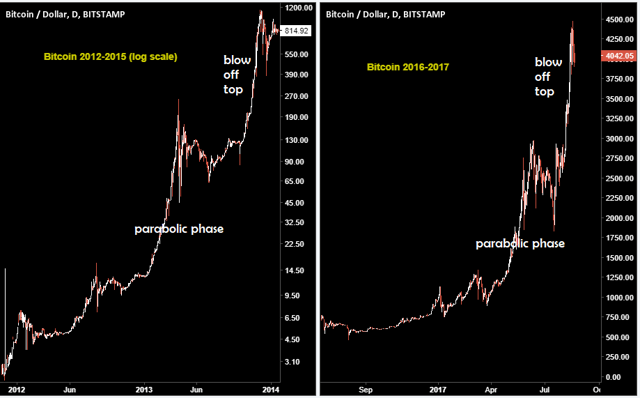 The rallies aren't a perfect copy, but the stages of the trend and the accompanying sentiment are comparable.
Sentiment and how price moves are the most important factors of my analysis. I'm not analyzing the fundamentals as I don't believe fundamentals are responsible for the huge gains in 2017.
Here is what I said last time out:
The way price moves is a reflection of changing fundamentals, sentiment and positioning. We know what participants have done in the past under certain conditions and we know what they are doing now. We can't know for certain what people will do in the future, but participants and the decisions they make are fairly consistent; they respond in similar ways under similar conditions. It allows us to make an educated guess.
So my educated guess now is that Bitcoin is topping. The bubble callers in June were right about many things, but painfully early. Cryptocurrencies have proliferated and drawn in many inexperienced traders at inflated traders. I see brokers promoting cryptos all over the web.

Source: eToro
I think the only thing missing from the equation was the blow-off move to really spark the mania phase and flush out the bears. But now we've had it.
So what next?
When bubbles pop, the usual reaction is for price to give up 80-90% of the gains and never fully recover. But Bitcoin is not "usual".
For a start, the way it recovered from the 2012-2014 bubble to form yet another one brings into doubt if these were indeed bubbles in the first place.
And the price movements echo a related instrument, gold (GLD), which rallied in comparable moves (or bubbles) over a much longer time period.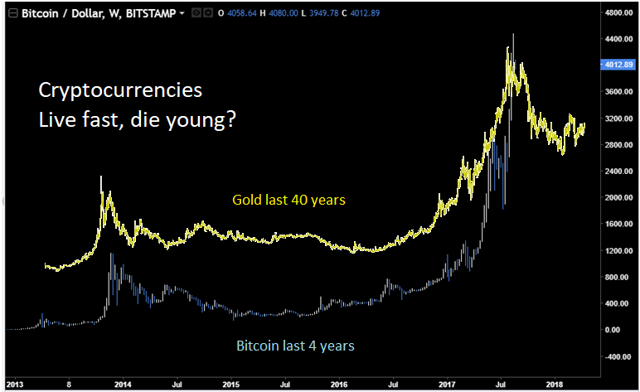 OK, so Bitcoin made the same moves in a tenth of the time, but the timing doesn't really bother me too much. It is actually pretty logical that cryptocurrencies move a lot faster than gold did back in the 1980s. And anyway, I'm more interested in the reaction in gold from the 2011 highs and if it can act as a guide.
Zooming into the way gold topped, there are again some similarities.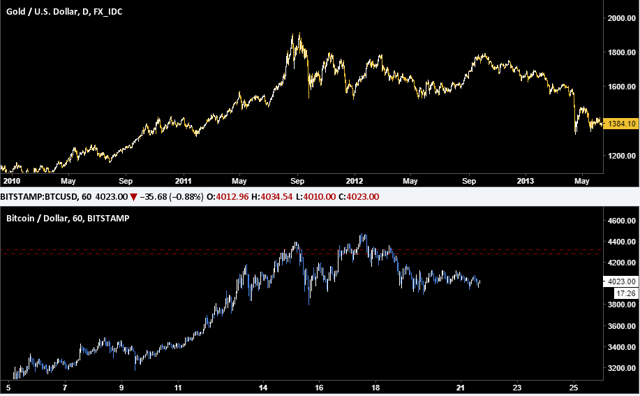 I distinctly remember traders (and even gold bears) buying gold for one more high as the pattern near the 2011 highs looked like a bullish triangle consolidation. That didn't turn out too well, and Bitcoin has a very similar pattern and associated sentiment.
Whether or not the comparison continues on the lower time frames remains to be seen, but I still think the general path of the gold decline from 2011 to 2015 could act as a decent guide. There could be a sharp drop, but importantly gold tells us not to expect a crash; cryptocurrencies are here to stay.
Over its four-year decline, gold worked its way to the last major consolidation area at $1,030 (March 2008-October 2009). A proportional move in Bitcoin targets the $2,800-2,900 consolidation range highs in a lot less time (more like 5 months than 50). The 38.2% Fibonacci retrace of the entire 2015 to 2017 rally comes in at $2,800, and this is a standard retrace for a powerful rally and therefore my target.
Conclusions
Based on evidence of trading patterns in gold and Bitcoin itself, plus all the usual telltale signs of a bubble, I think Bitcoin is in the process of topping and will soon fall back to $2,800-2,900.
Disclosure: I/we have no positions in any stocks mentioned, and no plans to initiate any positions within the next 72 hours.
I wrote this article myself, and it expresses my own opinions. I am not receiving compensation for it (other than from Seeking Alpha). I have no business relationship with any company whose stock is mentioned in this article.
Additional disclosure: I would short a move to $4300 using a spreadbet on prices with my UK broker.