Based on several factors, the latest Bitcoin news points to a potential bullish continuation in the long term. However, the short term remains uncertain; the cryptocurrency continues to trade in a tight range, although BTC has shown a spike in volatility.
As of this writing, the Bitcoin price trades at $25,500 with a 2% loss in the last 24 hours. In the previous seven days, the cryptocurrency maintained some of its profits as most of the tokens in the top 10 by market cap traded in the red after experiencing a slight uptick.
Bitcoin News: BTC At Risk Of Topping For Remaining Of The Year
The bigger picture for Bitcoin leans to the upside with the approval of a BTC spot Exchange Traded Fund (ETF) in the US gaining momentum. However, analyst Rekt Capital believes current prices are similar to those in late 2019 and early 2020.
As the chart below shows, at that time, the price of Bitcoin was trending to the upside in a tight triangle with a top at around $10,000. The cryptocurrency eventually broke about this resistance and entered uncharted territory.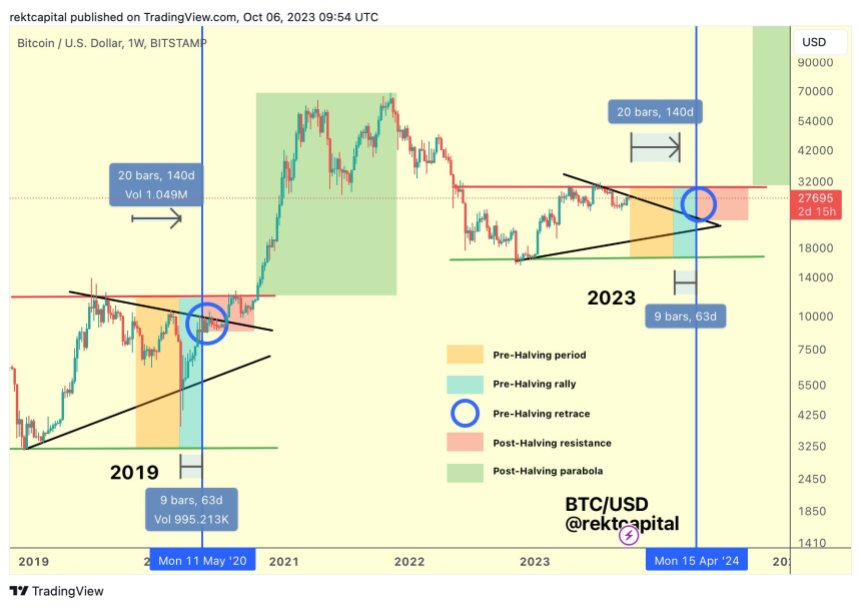 As the chart shows, this scenario has some obstacles for optimistic investors. Before the breakout, the price of Bitcoin revisited the lows and event wicked below critical support at $3,250.
The analyst believes that BTC could display similar price action as it approaches the top of its current channel. In this scenario, which aligns with BTC's pre-halving behavior, the cryptocurrency could re-visit the low of the trend.
As a result, a return to $20,000 and even the $15,000 lows seems likely. The analyst stated:
Here's the thing about current prices. Right now, there's a risk of them representing the Top for 2023. But after the Halving, these same exact prices will represent a Re-Accumulation range (red) before lift-off into a Parabolic Uptrend (green).
Still Hope For BTC Price Bulls
As mentioned, this scenario could hint at short-term losses for BTC, but the analyst shared other Bitcoin news in a more positive tone. First, Rekt Capital believes that the next 6 months into the Bitcoin halving could provide the "last ever retrace" to the $20,000 lows.
As the market approaches this event, the price of Bitcoin is more likely to trend upwards, with a "stronger" beat back to previous highs and potentially into uncharted territory. The analyst concluded:
Next ~6 months may offer the last ever retrace to low $20,000s (orange) And 2 months Pre-Halving, we'll likely see some stronger upside volatility (light blue) Lots of volatility to both the downside & upside await between now and the Halving.
Cover image from Unsplash, chart from Tradingview