On-chain data shows the number of stablecoin transactions going into spot exchanges have risen recently, something that could help fuel a Christmas Bitcoin rally.
Stablecoin Deposits To Spot Exchanges Have Shown Increasing Demand Recently
As pointed out by an analyst in a CryptoQuant post, there has been an increasing demand on spot exchanges recently. The relevant indicator here is the "stablecoin exchange depositing transactions," which measures the total number of transfers involving these fiat-tied tokens that are heading towards exchanges.
Investors usually use stablecoins whenever they want to escape the volatility associated with coins like Bitcoin. Once the holders feel the prices are right to re-enter into these volatile markets, they transfer their accumulated stables to exchanges for swapping them into their desired cryptocurrency. So, a large amount of these tokens entering into exchanges can act as buying pressure for other markets, and thus provide a bullish effect to the prices of Bitcoin and other assets.
Unlike the normal inflow metric, which simply measures the total amount flowing into exchanges, this indicator paints an idea about the actual demand in the market since it counts individual transfers, which can't be inflated by a few large investors as their transaction count will be much lesser than their inflow values.
Now, here is a chart that shows the trend in this metric, as well as the opposite one that keeps track of withdrawal transactions:
The value of the metric seems to have increased in recent days | Source: CryptoQuant
As the above graph shows, the stablecoin exchange depositing transactions metric has observed some growth recently, and at the same time, the withdrawing transactions have gone down instead. This means that there is demand to buy with stables right now, while there isn't much interest in exiting from volatile markets using these fiat-tied tokens.
Such a situation has proved to be bullish for the price of Bitcoin in the last few months, as the previous instances of this trend in the chart display. "With the number of stablecoin deposits up-trending & the number of stablecoin withdraws down-trending, the capitulation events could be reaching an end," notes the quant.
The analyst believes these inflows can fuel a new rally, saying "such pick up in retail investor sentiment could potentially lead to a Christmas rally." It now remains to be seen whether these stablecoin inflows will turn out to be constructive for the price this time or not.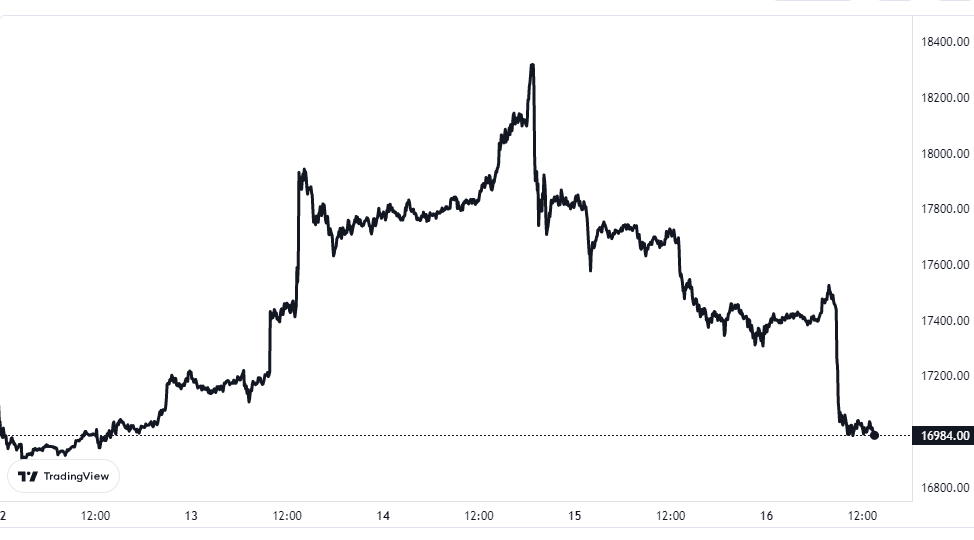 Looks like BTC has observed a decline in the last few days | Source: BTCUSD on TradingView
At the time of writing, Bitcoin's price is floating around $16,900, down 1% in the last week.