The XRP price has experienced a lot of volatility in the first two weeks of October, in contrast with previous months. This trend will continue as a critical metric hint at a potential "short squeeze," a price move set to take liquidity from long or short positions.
As of this writing, the XRP price trades at $0.48 with a 2% loss in the last 24 hours. The cryptocurrency recorded a 9% loss in the previous seven days and operated as the worst performer in the top 10 by market cap, closely followed by Solana (SOL).
XRP Price Sets Trajectory For Short Squeeze?
The crypto market has been experiencing a spike in volatility since October. Following months of sideways movement by Bitcoin and Ethereum, the XRP price broke the trend and ignited new life into the nascent sector.
The spike in volatility was recorded when the US Securities and Exchange Commission (SEC) lost its case against payment company Ripple. A US Judge favored the company and deemed the XRP token outside of securities laws in the country.
This event propelled XRP to fresh yearly highs, but the cryptocurrency has been losing some steam. Uncertainty in the crypto market remains high, and any individual bull run seems likely to lose power, as demonstrated by XRP's latest price action.
However, the current status quo is fragile, and fresh data indicates an aggressive move is in the making. A pseudonym analyst shared the chart below, showing the spike in the Bitcoin Open Interest.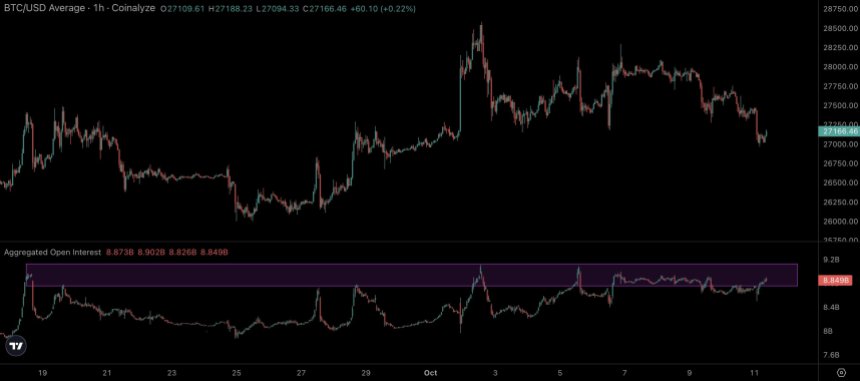 The analyst claims that the metric stands at a critical point that often leads to sudden moves in the price of Bitcoin, XRP, and other cryptocurrencies. In the short term, this spike in volatility could lead the XRP back to critical support levels.
However, the most likely scenario is that the Short Squeeze, the sudden spike in volatility, operates as a tool for prominent market participants to take liquidity off both sides, longs and shorts.
Crypto Poised For Downside Price Action
On higher timeframes, the crypto market and more prominent cryptocurrencies could become an obstacle to any upside on XRP. According to another analyst, the sector is gearing up for a significant move to the downside.
The analyst bases this theory on the upcoming Bitcoin Halving. This event has a profound impact on all other cryptocurrencies, and right now, BTC is at a critical point in which historical data points to a deep retrace back to around $20,000.
If BTC follows this trajectory, XRP could return to its pre-SEC victory levels. However, this downside price action might provide bulls with the "perfect" opportunity to accumulate before an overall bull run unleashes its force on the nascent sector.
As News reported, historical data also points to a great performance for XRP in the year's second half. The cryptocurrency enjoys a 30% return on investment (ROI) during this period.
Cover image from Unsplash, chart from Tradingview