The XRP price has experienced a harsh downward movement in the early morning hours of the Asian market (9 am in Tokyo). Within 45 minutes, the price dropped from $0.3394 to $0.2998, meaning that XRP experienced a drop of a whopping 12%.
Remarkably, this move did not happen in line with the broader market sentiment, as BTC and ETH recorded small gains in the meantime. It's also worth noting that the sudden price drop seemingly happened without any real news related to Ripple, such as a new development in the legal battle with the US Securities and Exchange Commission, or the XRP token. Thus, the price move seems mostly influenced by speculation.
However, at press time, the price had already managed to bounce back to $0.3322, erasing much of the sudden price loss. XRP is now facing resistance at $0.3333, which has not been breached yet.
There is one event that often comes into the focus of XRP investors on the first of the month, the unlocking of 1 billion XRP from Ripple's escrow account which happened yesterday, Sunday. Under normal circumstances, this is unlikely to have caused the sudden sell-off. The action has been well-known in the community for years, although this time there was a bit of a surprise.
While previously, XRP was unlocked directly from Ripple escrow accounts, this time it happened on unknown accounts, according to Whale Alert. However, Bithomp identified the addresses as those of Ripple.
? ? ? ? ? ? ? ? ? ? 500,000,000 #XRP (170,074,826 USD) unlocked from escrow at unknown wallethttps://t.co/yymqzSjLYk

— Whale Alert (@whale_alert) January 1, 2023
Ripple CTO Schwartz yesterday faced the question of why the XRP price is currently performing so poorly and answered:
I don't really have a good understanding of what affects the price of cryptocurrencies. But I will tell you what I think is true, though I can't back it up with facts. It's just my sense based on data, experience and maybe just feelings. 
More Downside In Store For The XRP Price?
Today's move could spell more downside for the price. The recent rejection at the key $0.37 resistance is likely to play a role in this. On the upside, it would be of significant importance for investors if XRP recaptures the level at $0.343 relatively soon. Otherwise, there could be a lot of liquidity on the downside, as today's move also showed.
Looking at the 1-day chart, a retest of the level at $0.2641 would be the most bearish scenario for now. The price level might present massive support, where liquidity could already kick in.
Investors should keep an eye on the $0.3205 level for now. If this breaks, the 6-month low at $0.2870 would be another area where XRP could see a bounce.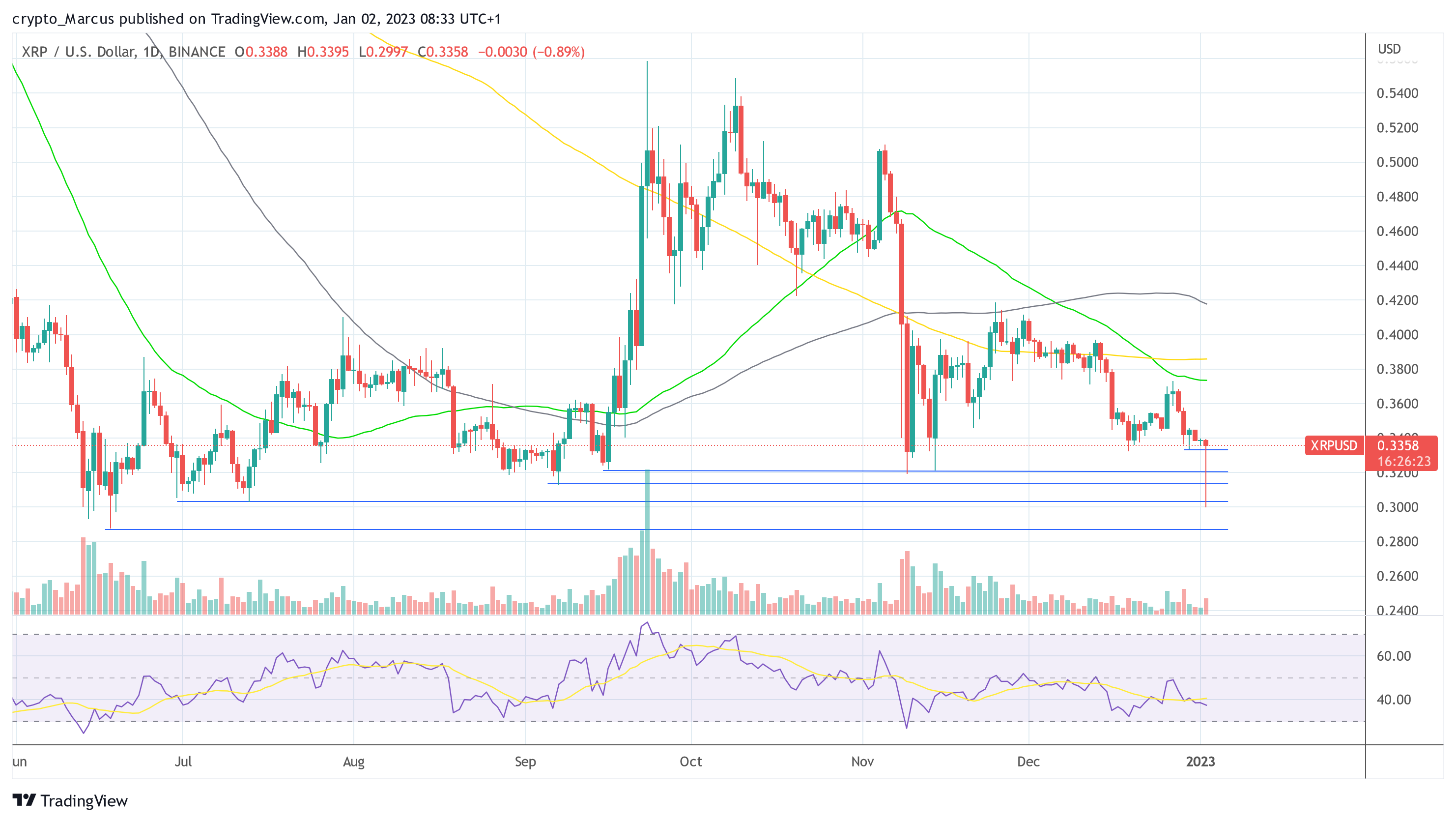 Featured image from iStock, Charts from TradingView.com