The good news is that getting started with Zcash mining is very simple. You don't need to download the full Zcash blockchain or manage clunky command-line miners with manual instructions; you can mine directly to an exchange or to a hardware wallet such as Trezor or Ledger Nano S. Of course, you should always do your due diligence to ensure your coins will be properly supported before sending them anywhere.
For the purpose of this guide, we're going to do a detailed walk-through of setting up and using the very popular Nvidia EWBF Miner. If you have AMD cards, mining Ethereum is usually your most profitable option.
However, if you have Nvidia cards, or if you're in the market to buy new cards and can't find any well-priced AMD cards, then mining Zcash on Nvidia GPUs is still very profitable with the EWBF Miner, which is highly optimized to get the maximum performance out of Nvidia's Cuda cores.
The whole process of getting set up, downloading your miner, configuring Windows, and setting up your batch file to run should take less than 20 minutes. Follow along with the steps in the video guide below, or read on for a full text guide.
Here are some good reasons to mine Zcash:
Mining can be a great way to subsidize the purchase of a new, high-end GPU (or two, or three…).
Because Zcash is easily traded for bitcoins (BTC), it's a cheap way to slowly build up a holding position in Bitcoin. Many influential people are very bullish on Bitcoin's future prospects.
BTC can easily be sold for cash, so mining ZEC can be a good way to indirectly fill your bank account or earn cash. ZEC can also be sold directly on some major exchanges.
Mining can be a cheap entry ticket to the Zcash markets, which are loved by traders for their high volatility. If you're a good and/or lucky trader, you can maximize your profits.
Ever since ZEC hit the market, it's been one of the highest-priced altcoins in the market, battling with Ethereum to be the highest-priced altcoin and peaking at over $400 in June 2017.
Building a large ZEC position through mining now may allow you to take advantage of price appreciation in the future with less risk than you'd face by just buying ZEC. Let's break this idea down a bit further.
Mining and holding crypto is similar to the old adage of buying low and selling high, except for the fact that most buyers don't know how to do technical analysis, so they buy and sell at the wrong times. They buy high during parabolic price increases and sell low during what could be normal price corrections on continued upward trends.
Buying gear and mining cryptocurrency with it allows you to own an income-producing asset in the gear itself, with aftermarket resale value holding up very well and even appreciating. GPUs purchased for mining in 2015 and 2016 were often sold at a profit in 2017 due to high demand in the market!
Allowing your gear to earn money and selling that gear when you reach your target can allow you to make nearly all your money back on the gear and pocket the crypto generated as profit.
How Zcash's Blockchain Differs from Bitcoin's
Zcash uses a different hashing algorithm than Bitcoin's, making it incompatible with the special hashing hardware (ASICs) developed for Bitcoin mining. Zcash's algorithm is known as Equihash. It's a memory-hard algorithm; it's designed to resist the development of Zcash-mining ASICs. Instead, Equihash is deliberately best suited for GPU mining.
Zcash also differs because it has a built-in privacy protocol called zk-SNARKS, which is designed to make it the leading privacy-based crypto in the market (competing with other privacy coins such as Dash and Monero).
Zcash has a 2.5-minute block time, compared to Bitcoin's 10-minute blocks, and it produces a block reward of 10 coins per solved block.
Hashrate, Difficulty, and Price
The total network hashrate has been climbing rapidly since its launch in 4Q16. This chart from Coinwarz tells the story:
So if the amount of hardware dedicated to Zcash mining is rising, why aren't blocks being mined more and more rapidly to decrease the average 2.5-minute block time?
The answer? Difficulty. By automatically adjusting the computational difficulty of solving a block, the Zcash blockchain is able to maintain 2.5-minute intervals. You'll notice that difficulty closely tracks hashrate, and it, too, has seen exponential growth this year: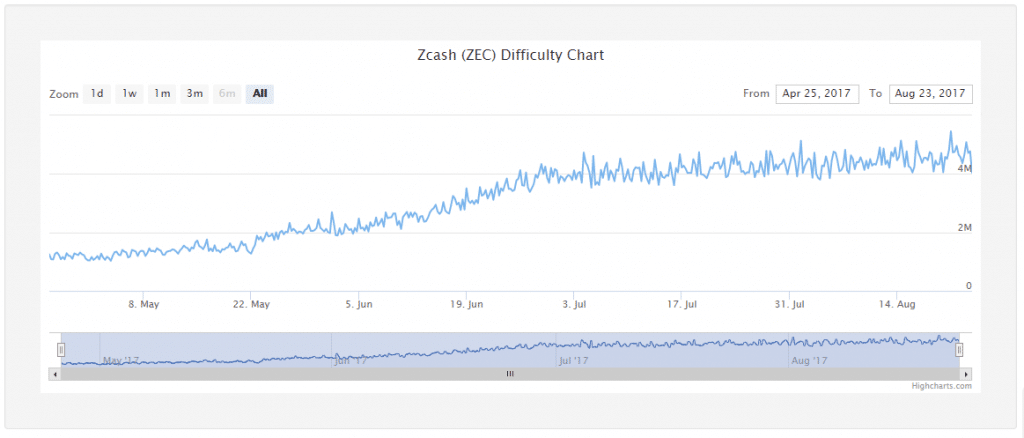 The next obvious question is why hashrate and difficulty have been rising in the first place. There's a simple economic answer: price! Check out this chart from WorldCoinIndex: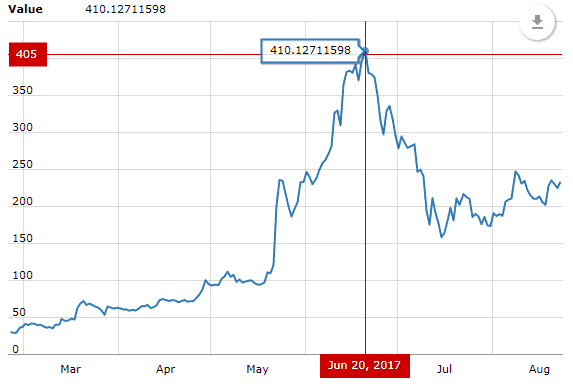 The takeaway here is that the hashrate has followed the price explosion, which really took off in May and June 2017. What an amazing bull run! Up to over $400 USD from under $50 USD in a few short months.
Calculating Zcash Mining Profitability
Now that we have a clearer understanding of the Zcash blockchain and important concepts such as difficulty, it's time to perform some economic calculations.
First, head over to whattomine.com, which provides up-to-date figures for current prices, block times, and network hashrates (as measured in megahashes per second, or MH/s, denoting millions of calculations per second).
Plug in your card at the top and click on the model number (the red square below), and the hashing and profitability info will be displayed below (click Equihash to make it blue so it will calculate).

These figures will change based on when you run this analysis, but for the purpose of this example, we would net roughly $1–$2 per day per GPU, depending on the model and configuration.
Choosing Your GPU Hardware
Experimentation with various GPU selections in the calculator will reveal a card with the best price-to-performance-to-power consumption combination (expressed as MH/s per currency unit). Keep in mind that AMD cards outperform Nvidia cards for Ethereum mining purposes on the EthashAlgo, but AMD doesn't beat Nvidia when it comes to the Equihash algorithm using the EWBF Miner.
The card should have at least 1 GB of RAM, or it won't be able to properly mine Zcash. This is a correction from the video, as EWBF supports GPUs with just 1 GB of RAM, compared to Ethereum's 3 GB requirement. However, many older cards may not be energy efficient enough to turn a profit, so check on whattomine.com by entering your card's info.
Pro tip: check out the following GPUs: Nvidia's GTX 1060-6GB/1070/1080 Series; AMD's RX 470/480, RX 570/580, R9 Series, or HD 7990/7950 (if used cards are available, try to get them from a gamer instead of a miner, with a warranty if possible). As with everything, do your own due diligence to evaluate GPUs based on their hashrates, power requirements, availability, and price.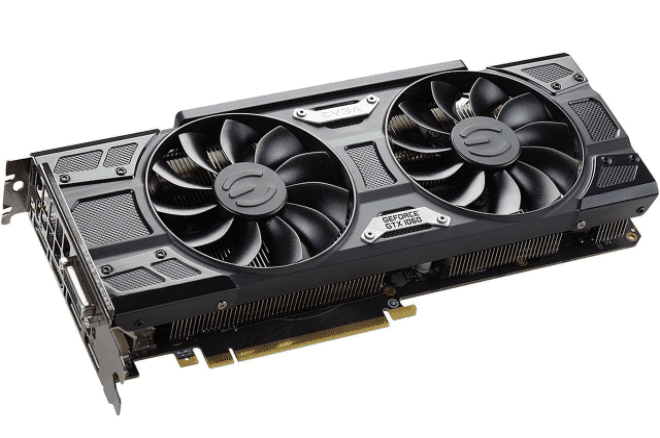 For a solid budget card, the Nvidia 1060 with 6 GB of RAM is recommended (when in stock and not ridiculously overpriced due to the card shortages we've been seeing in summer 2017). This GPU will beat the AMD 480s when it comes to mining Zcash!
Mining Zcash on your PC (Windows)
If you're reading the newbie's guide to Ethereum mining and have a GPU that's powerful enough to make it worthwhile, we're going to assume you're running Windows, so we'll focus on mining Zcash on that platform.
1. Get Your Video Card Drivers Installed
AMD GPUs: Head over to amd.com to download your GPU drivers. Go to amd.com, choose Support & Drivers, enter your GPU information, and click Display Results.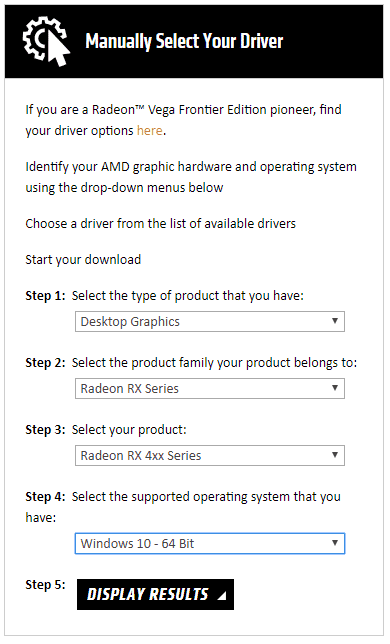 You can click the Download button for the current driver or choose Download Previous Drivers & Software on the right-hand side. This will allow you to choose an older version that will be a great driver for mining based on your card:
R9 and older: use 15.12
RX 400 Series: use 16.9.2 or 16.10.3
RX 500 Series: because these are newer, I'd recommend going with current driver for now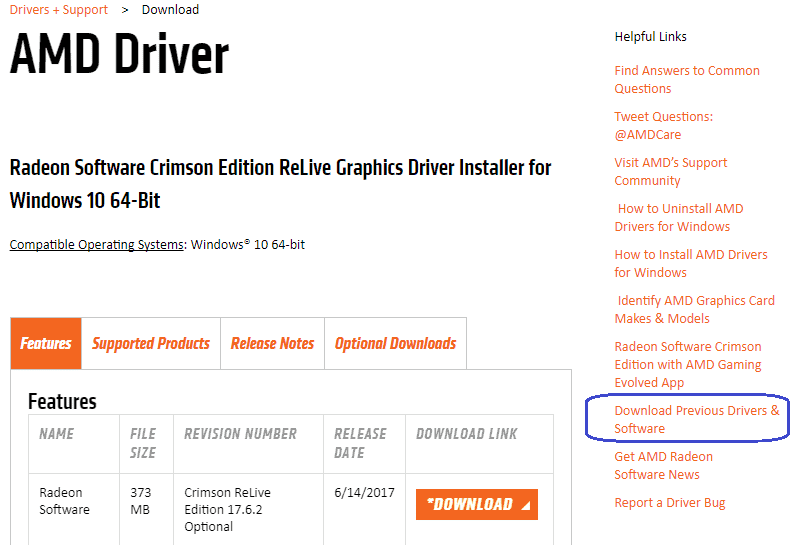 Click the orange download button to get started.
Nvidia GPUs: To get the latest Nvidia GeForce drivers, go to https://www.geforce.com/drivers. Enter your card info, and click Start Search. Download the current version from the results.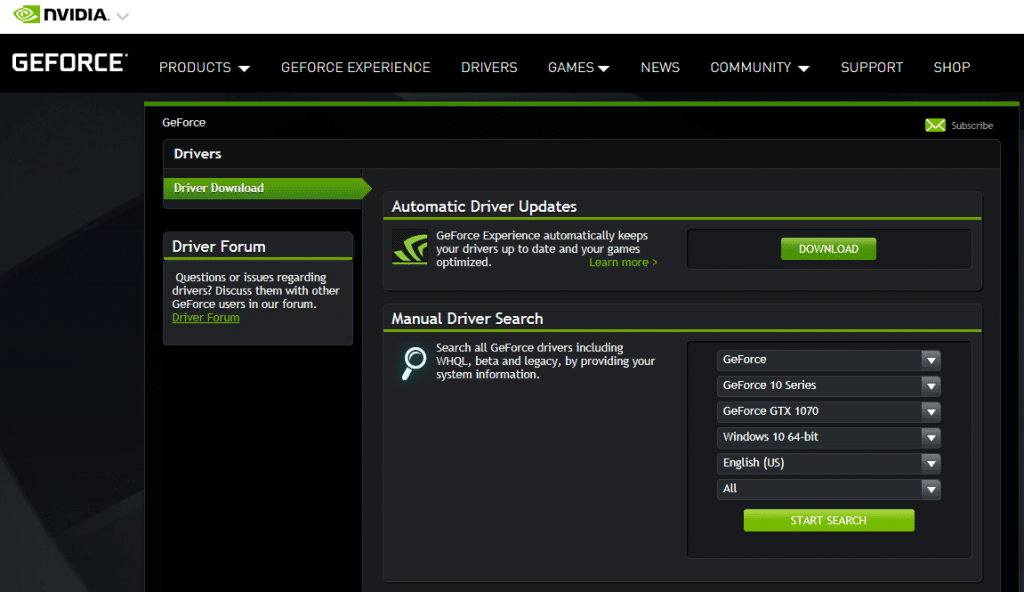 Install your GPU drivers as you normally would and reboot. You'll know your GPU has been recognized correctly if you go to Device Manager (search it in Windows search bar) and you don't see any warning marks on your GPUs. They should look like this: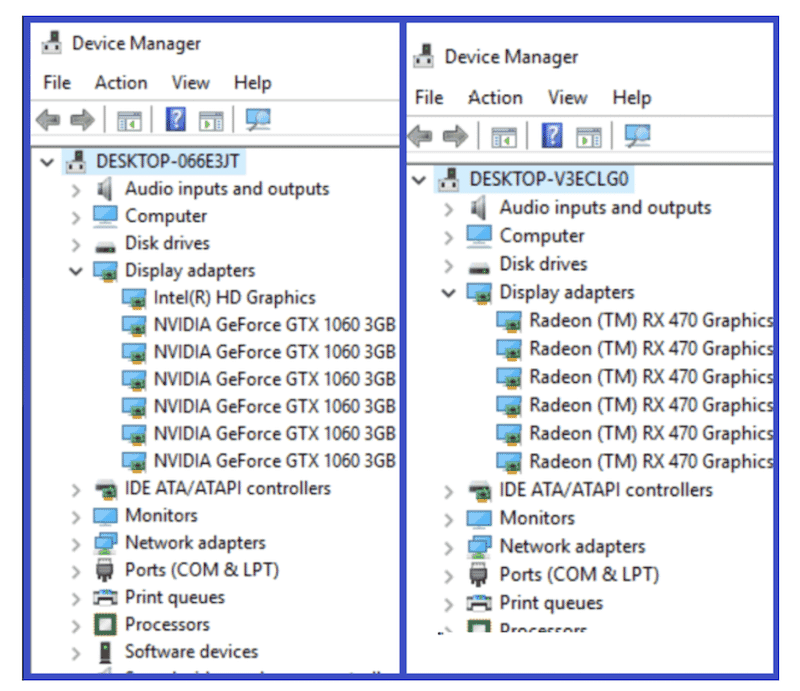 Troubleshooting tip:  Some miners have had success installing all GPUs at once, then installing the drivers. Others prefer to install only one card, install the drivers, shut down the system, and then install the rest of the GPUs.
I've had success both ways, so if you run into an issue with one method, delete the drivers and try the other method. If you need to remove your drivers, use the DDU (Display Driver Uninstaller) program from Guru3d.com to remove everything cleanly, then start over.
2.  Get a Zcash Wallet Address
In order for you to have a place to send the coins you mine, you'll need a Zcash wallet address. Go to Z.cash, the official Zcash website, and download the Zcash client.
You can also use a hardware wallet such as Trezor, Ledger Nano S, or Jaxx, a popular supported web wallet. You can even mine directly to exchanges that have support, which is primarily what I've been doing since November 2016 (I've been mining to Bittrex).
3.  Download the EWBF Zcash Miner
The next step is to download the EWBF Miner. Only download miners from the official threads in BitcoinTalk. If you scroll down, you'll see a couple of different download options. We're going to use the Mega download link.
Locate the most recent version of the miner and download the zip file. Let that run (it doesn't take long), and once you have it downloaded, extract it to your desktop so that you can work with it.
Note that when you download self-contained miner files, Windows may provide a warning. If you've used EWBF's official download links, you can ignore this.
4.  Tweak Some Windows Settings before Mining
Some settings should be modified in Windows to get you ready for mining.  First, you don't want your computer to go into Sleep mode, as it will interrupt your mining. Go to your Power Settings and set Turn Off/Sleep to Never.
Next, you'll want to modify your system page file and manually set it to 16384 MB (16GB). Right click "This PC" from Windows Explorer and choose "Properties". Click on "Advanced system settings". On the Advanced tab, click "Settings" (under Performance).
Click on the Advanced tab and click "Change" under Virtual Memory. Uncheck "Automatically manage paging file". Click the radio button for Custom Size and enter 16384 for the Initial size and Maximum size. Then click OK, Apply, OK.
To minimize the disruptions to your mining and settings, you may also want to disable Windows Updates. If you feel more secure leaving updates on, you can do so, but keep in mind there are frequent updates that will reboot your system and stop your mining.
Finally, If you're running Windows Defender or some other antivirus program, add an exclusion to it so that it doesn't flag the entire EWBF folder.
5.  Join a Mining Pool and Configure Your Mining Bat File
The next step is to set up pool mining. Solo mining is unlikely to make you any Zcash unless you have a warehouse full of GPUs.
Your first step will be to choose a Zcash mining pool. There are plenty to choose from, but we recommend Flypool. The home page or help section of a mining pool site will likely contain instructions on how to mine on its pool using the popular EWBF Miner.
On zcash.flypool.org, you'll see a section called Windows – Nvidia. The EWBF Miner is in this first section. You'll need to copy the miner script example, as shown below: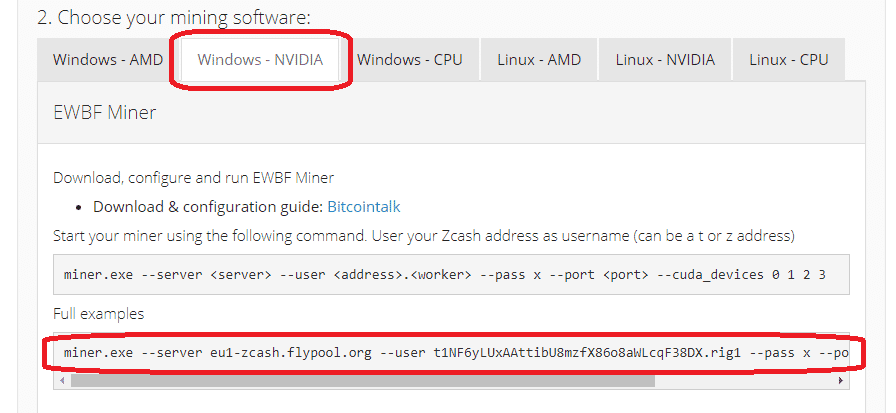 We're going to paste this string into the flypool bat file inside the EWBF Miner folder we extracted earlier. The bat file is a batch file that gives the commands to run the miner application.
Right click on the bat file called "flypool" and hit Edit. The file will open in Notepad. Paste what you've copied from the flypool website. I'm going to update my server to "us1" instead of "eu1," and I'm also going to remove the "—cuda_devices" language at the end. This language is used if you want to designate mining only to certain devices (for example, if you want to game with one GPU and mine with the other two). If you want to mine with all devices, you can delete the —cuda_devices designation.
Next, copy your Zcash wallet address. Inside the bat file paste your own Zcash address (in the example above replace the address that starts with "t" and ends with "DX"). After replacing the address you can also change the worker name. In this case it's .rig1, but you can call it .miningRig1 for example.
Now save your file as a batch file with the .bat extension:
Choose File > Save As and type ".bat" after the name. In the Save As type box, make sure you select All Files, then click Save.
Congrats—you now have a batch file ready to mine! Create a shortcut for the new bat file and send it to your desktop. You can then delete the text version of the file.

6.  Start Your Miner!
Double-click your bat file to start the miner. The miner will start, initialize each of your GPUs, and hash away.
To monitor your earnings, go back to zcash.flypool.org and paste your wallet address into the Address window at the top. Then click Check Status: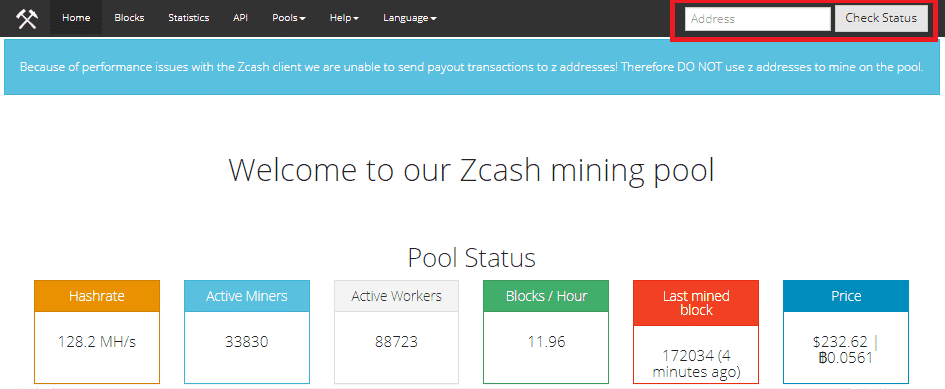 That's it for the beginner's guide on mining Zcash on your PC!
I hope you've found this guide useful! In the video, I quickly cover overclocking and turning down your power consumption via MSI Afterburner, so make sure to watch it as well. If you run into any issues or have any questions, comment here in the blog or in the video comments, and I'll try to help as much as I can.
If you're interested in taking your crypto mining to the next level, sign up at Crypto Mining Academy, where I go massively in-depth, detailing every step of this process in a comprehensive course. Happy mining!